August 7, 2017
---
Music Week Upfront / Mainstream Pop News 07|08|17
Rudimental beats Blonde to the top of the Upfront Club Chart with their summer hit "Sun Comes Up feat. James Arthur".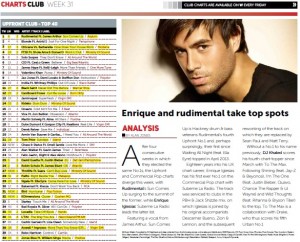 Enqrique Iglesias tops the Music Week Commercial Pop Chart with his most recent release "Subeme La Radio"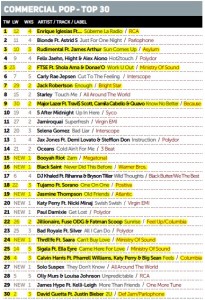 After four consecutive weeks in which they elected the same No.1s, the Upfront and Commercial Pop charts diverge this week, with Rudimental's Sun Comes Up surging to the summit of the former, while Enrique Iglesias' Subeme La Radio leads the latter list.
Featuring a vocal from James Arthur, Sun Comes Up is Hackney drum & bass veterans Rudimental's fourth Upfront No.1 and, perhaps surprisingly, their first since Waiting All Night (feat. Ella Eyre) topped in April 2013. Waiting All Night was taken from their debut album Home, as were their other No.1s, Feel The Love, and Not Giving In, both from 2012.
18 years into his UK chart career, Enrique Iglesias has his first ever No.1 on the Commercial Pop chart with the fashionably Spanglish Subeme La Radio. The track was serviced to clubs in the PBH & Jack Shizzle mix, on which Iglesias is joined by his original accompanists Descemer Bueno, Zion & Lennon, and the subsequent reworking of the track on which they are replaced by Sean Paul and Matt Terry
Upfront Club Chart Breakers: 1. Too Sophisticated – Joanna Michelle, 2. Lonely Keys – Foreign Movies, 3. Over Me – Inaya Day & Ultra Nate, 4. Subeme La Radio – Enrique Iglesias Feat. Descemer Bueno, Zion & Lennox Or Enrique Iglesias Feat. Sean Paul & Matt Terry, 5. I Wanna Feel – Bliss Feat. Fem Fel, 6. Back For More – Feder, 7. My Love – Dj Pioneer & Tj X Kele Le Roc, 8. Move – General Levy & Toni Toolz, 9. Boy In The Picture – Kid Creme & Jolyon Petch Feat. Sian Evans, 10. Cola – CamalPhat & Elderbrook