September 4, 2015
---
Sigala "Easy Love" #1 Club Smash Out Now on iTUNES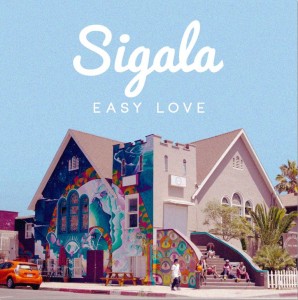 OUT NOW ON iTUNES
https://itunes.apple.com/gb/album/easy-love-single/id1009229334
Five weeks after topping the Upfront club chart for the first time in its original mix, Sigala's Easy Love returns to the chart apex thanks to subsequently serviced variations from DJ Zinc, Sticky and Danny Byrd. As we mentioned when it was first number one, the track is based around a speeded-up Michael Jackson sample from The Jackson 5's 1970 Top 10 hit ABC – and is the very first chart entry for Sigala aka London DJ Bruce Fielder.
Already smashing the No.1 Spot in the Music Week Upfront Club Chart c/o the Original mixes, and smashing the top end of the Shazam Charts, the massive smash "Easy Love" by hot newcomer Sigala now secures a second victory in this week's Music Week Magazine (07th September).
The buzz around Sigala's 'Easy Love' screams sure fire summer hit. Expect this to be another smash for Ministry of Sound, following this year's hits with Tchami, Mike Mago & Dragonette, and DJ Fresh feat. Ella Eyre.
The work of British producer Sigala, aka Bruce Fielder, 'Easy Love' has been added to Capital FM's playlist 10 weeks ahead of release, recently trended No.1 worldwide on Shazam, and subsequently shot straight into their main chart, following national radio plays from Radio 1, Kiss (Kiss Fresh playlist), Capital Xtra (playlist), and more, with support from the likes of Pete Tong, Danny Howard, and Radio 1's Breakfast show. 'Easy Love' also peaked at No.1 on the UK's Cool Cuts tastemaker chart.
Featuring a cleared sample from the Jackson 5's 'ABC', Sigala's 'Easy Love' also comes with Tito Jackson's seal of approval, given in person after he visited Sigala at his studio.
Sigala boasts an impressive early musical background, after learning to play the piano at 8 years old, he achieved grade 8 only a few years later. He spent his teens first listening to jazz, then the likes of Pendulum, Sub Focus, Fatboy Slim and The Prodigy. After he finished Westminster University, he spent a year or two in unsigned bands, before deciding he wanted to be in the studio, writing and producing for himself and others. Landfill indie's loss is now dance music's gain.
Now based at Tileyard Studios he's surrounded by the artists he adored as a student (Pendulum, Sub Focus are all residents there). As well as his own forthcoming releases, Sigala is writing songs for artists including Felix Jaehn and Ella Eyre (on her upcoming single 'Good Times'). Piano based instrumentals and jazz chords are still evident throughout, showing that his technical background lends itself generously to his present sound. Expect further singles from Sigala to follow later this year.